Skip Navigation
Website Accessibility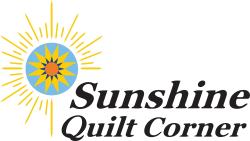 JUST IN at Sunshine Quilt Corner 6-17-2020
JUST IN!
NEW FABRIC! NEW CLASSES!
NEW SEW DAYS! KID'S CAMP!
New Fabrics now arriving every day! Check us out online at www.SunshineQuiltCorner.com or come and visit us to see the new selections!

Our Classes Calendar is updated! New Projects and Sew Days are now listed. CLICK HERE for a COMPLETE LIST!



KID'S CAMP!
Come and join the fun of learning how to quilt! Kids aged 9 and older are welcome. During this fun week of camp you will learn how to measure and cut your fabric, use your sewing tools, and sew your fabric pieces into a fabulous quilt. All you need to bring are your sewing machine, some basic sewing supplies, and a spirit of adventure. We will guide you through every step of the process. At the end of the week, we will celebrate you and your new found skills in a festive quilt show and tell. Also, a Certificate of Completion is included. ALL Fabric costs are included in fee.
CLICK HERE to REGISTER or for MORE INFORMATION.