Skip Navigation
Website Accessibility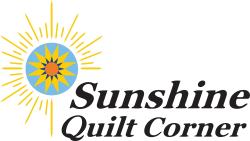 Sunshine News 7-17-2020
July 17, 2020



Christmas in July!





20% of ALL Christmas Themed Fabric



AVAILABLE IN-STORE ONLY!

Swissmas in July!



Limited time special financing available from July 24th through August 4th.
0% financing – 24/36/48/60 months on machines $999.00 and up!


NEED A BERNINA CREDIT CARD?
Click HERE to Apply ONLINE.
25% OFF ALL Embroidery Software, CDs and Supplies

Check it out on our website, use coupon code EMB25 online
or come by to see our selection!
Shopping Appointments Available

If you have health or mobility issues, we are now booking Morning and Evening shopping sessions BY APPOINTMENT ONLY. There will be 1 or 2 staff members in the store and maximum of 2 shoppers in the store at the time. Please call us at
757-596-7397 or email INFO@SunshineQuiltCorner.com to set up an appointment.
Bernina Accessory of the Month

High Tension Bobbin CASE
$112.99 MSRP - NOW 25% OFF
Perfect for Embroidery Projects!
New fabrics just arriving today :
Dallas Cowboys
Washington Redskins (vintage logo)
Safari Animals
and the new line from designer Lori Holt Prim.

CLICK HERE to see our UPCOMING Classes/Events!

Sunshine Quilt Corner, LLC
896 J Clyde Morris Blvd, Newport News, VA 23601
757-596-7397
info@sunshinequiltcorner.com
Mon-Fri 10-5p Sat 9a-4p