Skip Navigation
Website Accessibility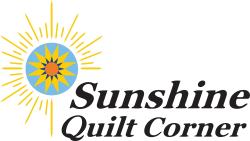 SEPTEMBER NEWS
SEPTEMBER NEWS
Benartex Fabrics Presentation
Join Jeremy, our Benartex Fabrics representative, as he shares his 3-part presentation on the production of premium fabrics. He will explain how to spot great quality fabrics, show you how batik fabrics are produced, and share some of the new fabric collections being planned for 2021. Each participant will receive a goody bag and be eligible for fabric prizes.
Upcoming Events!
SEW DAYS! Under the Apple Trees, Beginning Quilting, NORTHCOTT EVENT, Christmas Magin and MUCH MORE!
CLICK HERE for our SEPTEMBER/OCTOBER CALENDAR!

NEW PRODUCTS ARRIVING DAILY!

IN THIS WEEK:

MODA : Back Porch - Red, White and Blue Line

Northcott : Santa's Helpers - "Santa Stop Here"

Benartex : Flourish - Peacocks
Select Styles in Laminate
Crescendo from Amanda Murphy
(going to be featured in our Upcoming Pineapple Passion
Class in November)

EPP - Clutch of Hearts by Tula Pink



CLICK HERE to see our UPCOMING Classes/Events!

Sunshine Quilt Corner, LLC
896 J Clyde Morris Blvd, Newport News, VA 23601
757-596-7397
info@sunshinequiltcorner.com
Mon-Fri 10-5p Sat 9a-4p