Skip Navigation
Website Accessibility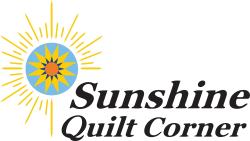 NEW FROM SUNSHINE! Nov 20, 2020
NOVEMBER/DECEMBER 2020
25% off TOTAL PURCHASE through
November 30, 2020
(excludes all Bernina items)
NEW ARRIVALS!
(Fabrics and Notions)
Cosmos by In the Beginning Fabrics
Diamonds Quilt Kit by Amanda Murphy
Aurifil Color Builders Set

-

Florence Brown
Aurifil Thread

-

NEW Colors in!

More on the way!
We have Face Mask panels by Dear Stella, Ruby Star and Moda.
Tula Pink Key Chains - all 4 styles : Cat, Bird, Scissors, and Bernina Sewing Machine.
New Fabrics and Items arriving DAILY!

Come by or visit us at www.SunshineQuiltCorner.com
Come and join in the fun!
We will be doing the
12 Days of Quiltmas.
One make and take project for 12 days.


Make some for gifts or just make it for yourself.
| | | | |
| --- | --- | --- | --- |
| DAY | DATE | Time | Project Name |
| 1 | Dec 2 | 6p-9p | |
| 2 | Dec 3 | 10a-2p | |
| 3 | Dec 3 | 6p-9p | |
| 4 | Dec 4 | 6p-9p | |
| 5 | Dec 5 | 1p-530p | |
| 6 | Dec 7 | 10a-5p | |
| 7 | Dec 8 | 4p-730p | |
| 8 | Dec 9 | 10a-430p | |
| 9 | Dec 10 | 10a-430p | |
| 10 | Dec 11 | 10a-430p | Casserole Carrier |
| 11 | Dec 12 | 930a-4p | Project Bag |
| 12 | Dec 15 | 930a-430p | |




CLICK HERE to see our UPCOMING Classes/Events!

Sunshine Quilt Corner, LLC
896 J Clyde Morris Blvd, Newport News, VA 23601
757-596-7397
info@sunshinequiltcorner.com
Open M,T,Th,F - 10a-5p Wed - 10a-8p Sat - 9a-4p