Skip Navigation
Website Accessibility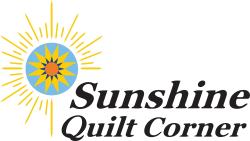 Sunshine News
Sunshine News
March is National Quilting Month!
In honor of National Quilting Month, we are taking an extra 10% off of our Aisle 9 fabrics! Swing by to pick up some of the fabric at a great discount.

Upcoming Classes:

Which Exit Do I Take?


This fast and simple quilt uses two easy to piece 10" blocks. The design is fat quarter friendly and scrap happy as well! The class is on March 3rd and 17th from 5 to 9pm, but there is still time to sign up!

Glimmer


Sew snowball blocks and pinwheel blocks using basic cutting and piecing techniques. The class is on March 9th and 23rd from 5:30 to 9pm!

Tools of the Trade


Carry everything you need in this sturdy organizer, from rulers to scissors to cutting mats. The class is on March 9th, 23rd, and April 13th from 10am to 3pm!

Twisted Easter Egg Quilted Wall Hanging


This cute wall hanging is perfect for Easter! Join Debbie as she puts a twist in a traditional Easter Egg. The class is on March 15th and 29th from 10am to 1pm!

Lexi Carryall Crossbody Bag


Join us to learn how to make this fun bag and how to attach zippers and a handle! This bag is perfect for carrying your wallet, phone, pocketbook, and more. The class is on March 18th from 10am to 4pm!

Kids Sew Day


It's a sew day for Kids! Bring your child (aged 9 or older), their sewing machines. This month the kids should have a project to work on. We'll have adults monitoring the classroom. The sew day is on March 19th from 9:30am to 3:30pm!

Project Linus


Project Linus is a non-profit organization that provides new handmade blankets to children in need. Their blankets are lovingly made by adults and children from all walks of life and many different sources. Join the Norfolk Chapter in making quilts for this worthy cause and make new friends at the same time! The class is FREE to attend and is on March 26th from 9am to 3:30pm.


CLICK HERE to see our UPCOMING Classes/Events!

Sunshine Quilt Corner, LLC
896 J Clyde Morris Blvd, Newport News, VA 23601
757-596-7397
info@sunshinequiltcorner.com
Mon-Fri 10-5p Sat 9a-4p